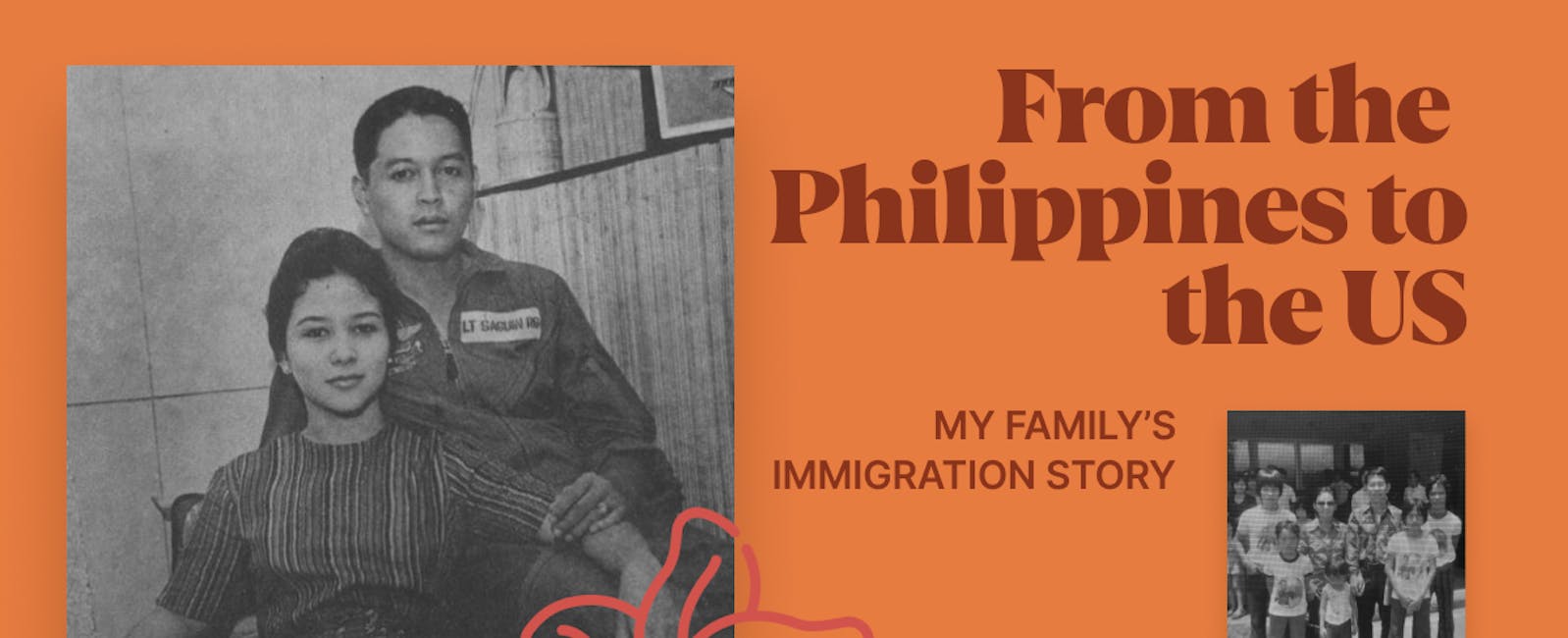 Blog: My family's immigration story
May 31, 2023
For AANHPI month, I wanted to take some time to talk with my grandparents to learn more about why they wanted to immigrate from the Philippines to the US. These are conversations that never really came up when we were kids. As I've gotten older, I've found myself wanting to reconnect with my Filipino culture. I wanted to start learning about my family and their experiences as first-generation immigrants.
The Pascual's Journey from the Philippines to California.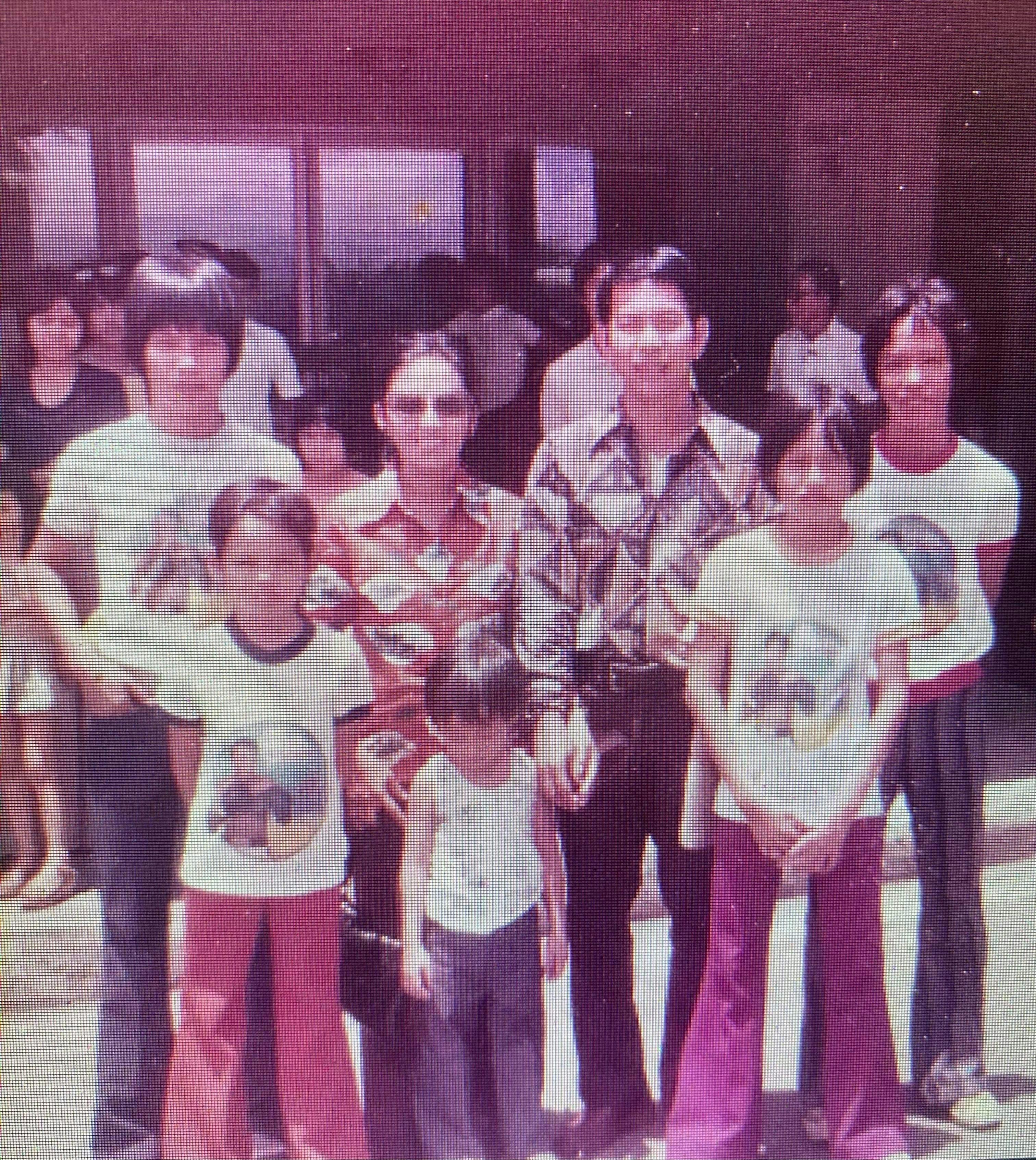 Mommy Dory, my uncles and dad sending off my grandpa at the Manila airport in 1973.
My family's journey to California started in the 1950s when my grandpa's older brother, Papang, took a chance and moved to the US from the Philippines without a concrete plan. He eventually found work with the Philippine Consulate, which eventually paved the way for my grandpa, who we call Daddy Nonong, to move in the mid 70s. Daddy Nonong was sent by the Philippine Consulate to represent the country as a media photographer in Los Angeles under a diplomatic visa. He had always wanted to come to America for the opportunities that it offered to his family, but he wanted to test out the waters for himself before moving his entire family over. After spending a few years in California solo, he decided that this was the place he wanted his family to call home.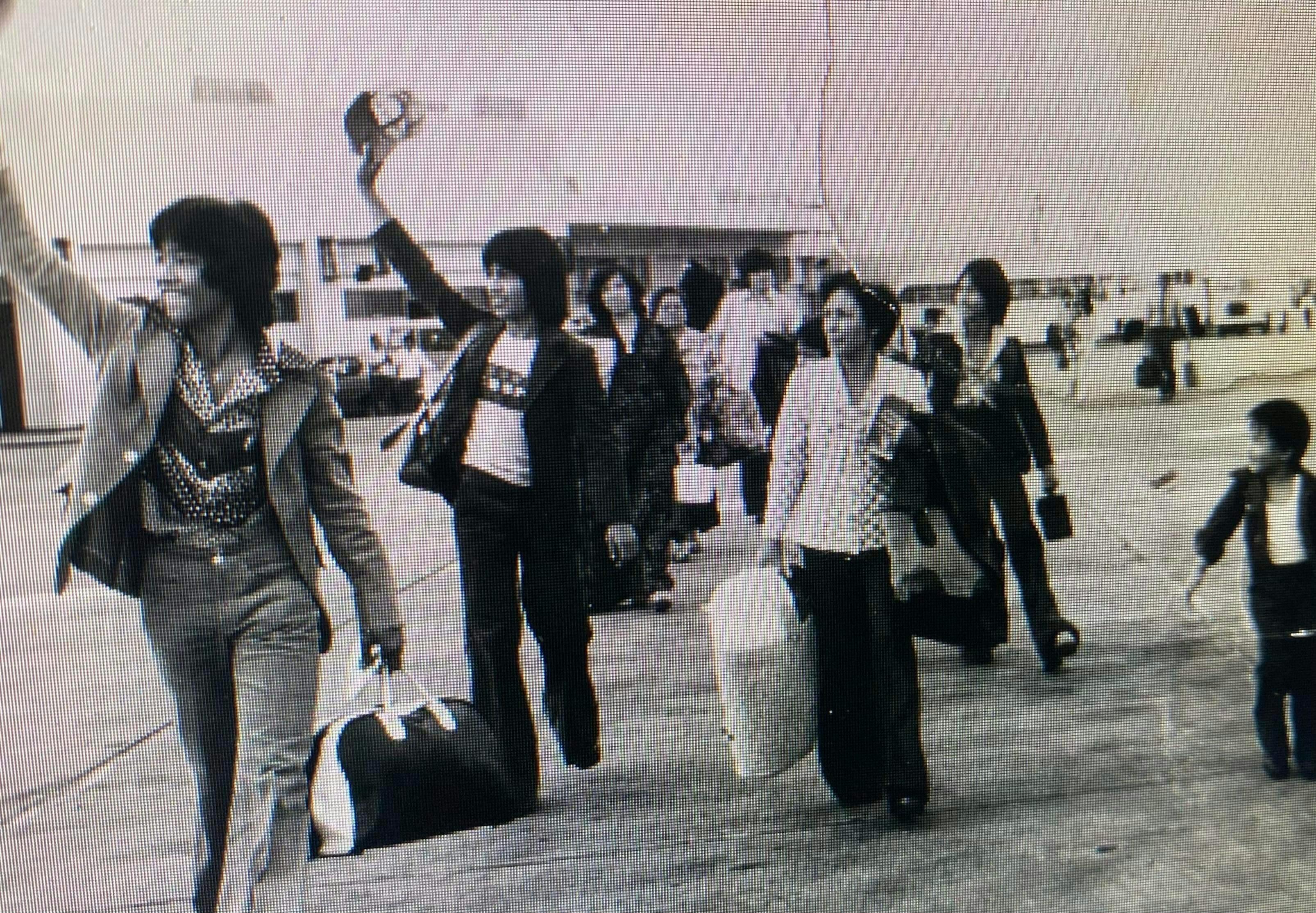 Mommy Dory and her sons on their way to board the plane to California in 1976.
In 1976, my grandma (Mommy Dory), my uncles, and my dad joined Daddy Nonong in California. While the US provided our family with expanded opportunities, Mommy Dory still missed her home. Her parents and siblings were all still in the Philippines, so part of her felt lonely despite having such a big family at home. Eventually, she opened up her home and essentially started running a mini daycare. Even to this day, everyone that meets her calls her "Mommy Dory" because of her loving energy.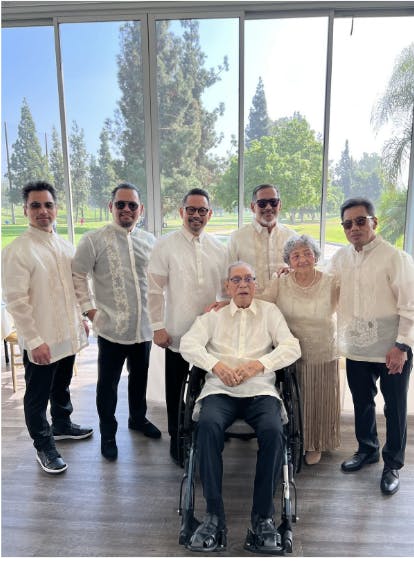 My grandparents, uncles, and dad at Mommy Dory's 90th birthday in 2022.
Fast forward to today: my entire family (apart from my dad who moved to Vancouver) is still living in California. The Pascual family has expanded from 7 to 40+ family members; my grandparents have 5 children, 16 grandchildren, 16 (almost 17) great grandchildren, and 1 great great grandchild.
The Saguin's Journey from the Philippines to California.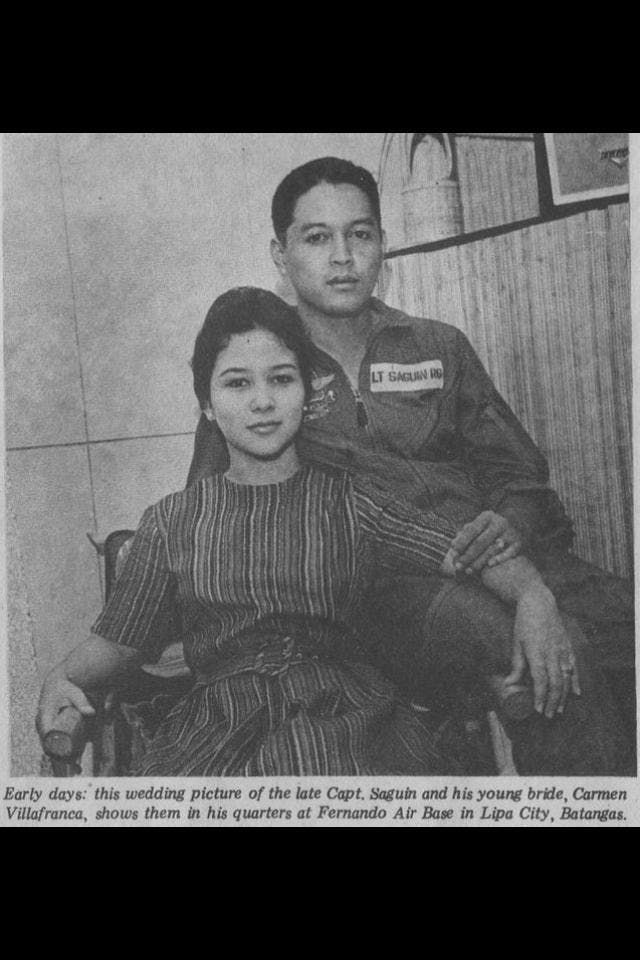 Mama Lola and Lolo Rene at his air-base in the Philippines.
On my mom's side, our family's immigration started in the early 1970s when my grandparents (Mama Lola and Lolo Rene) started thinking about leaving due to the political climate in the Philippines. As my Lolo Rene's sister had already settled in the US, she was able to sponsor my grandparents and their kids to make the move. However, when my grandpa suddenly passed away in 1978, our family lost their eligibility.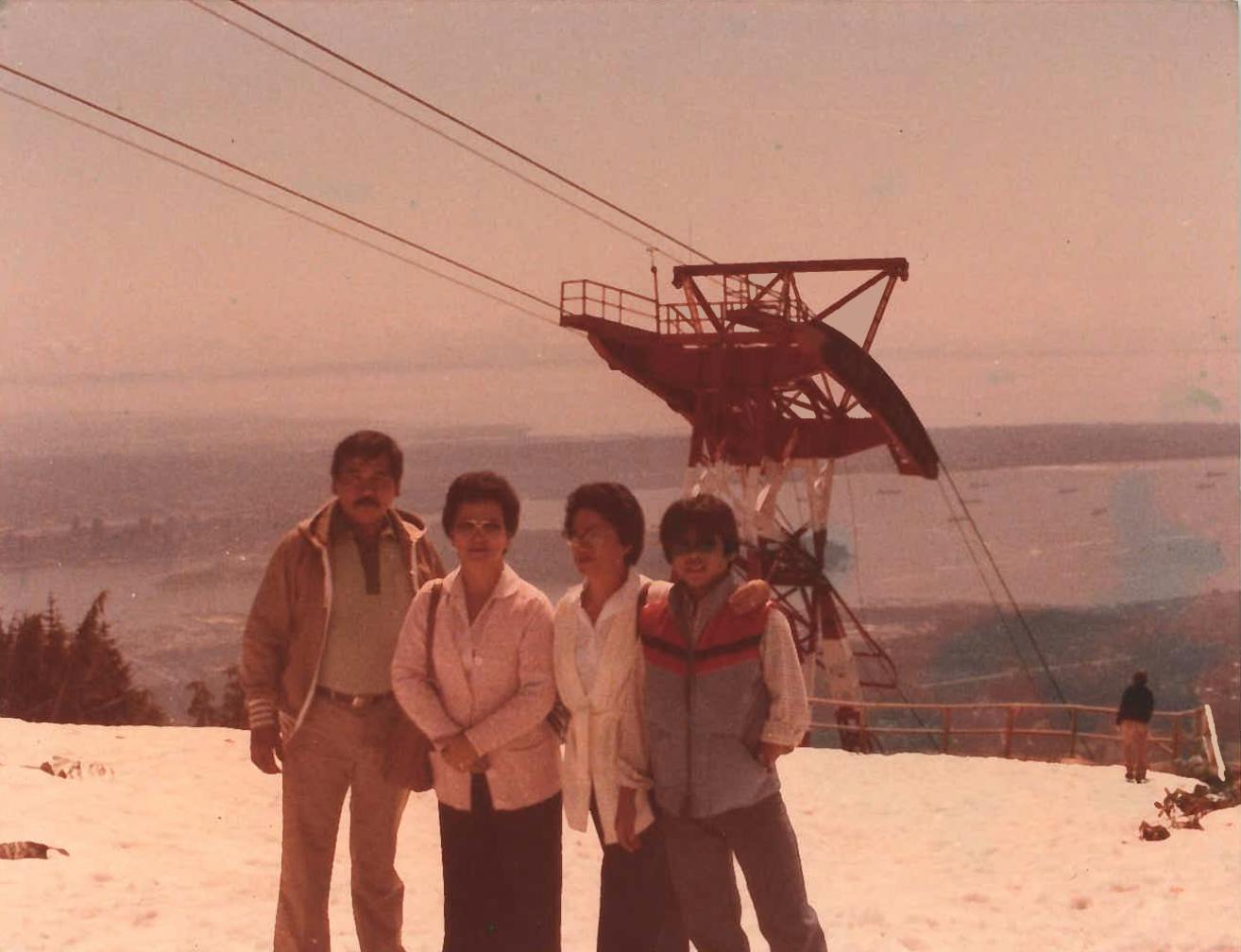 Mama Lola with her sister's family in Vancouver in the early 1980s.
When my Mama Lola started the immigration process again, she decided to try applying for a visa in Canada, where her sister had settled a few years prior. She decided to visit her sister to see for herself if Canada was the right place for her family. However, her application got rejected twice because she was a single mother with no job ready for her in Canada. Her next move was to try applying for a visa in the US—which ended up being her saving grace and she was able to move her family to Seattle in 1986.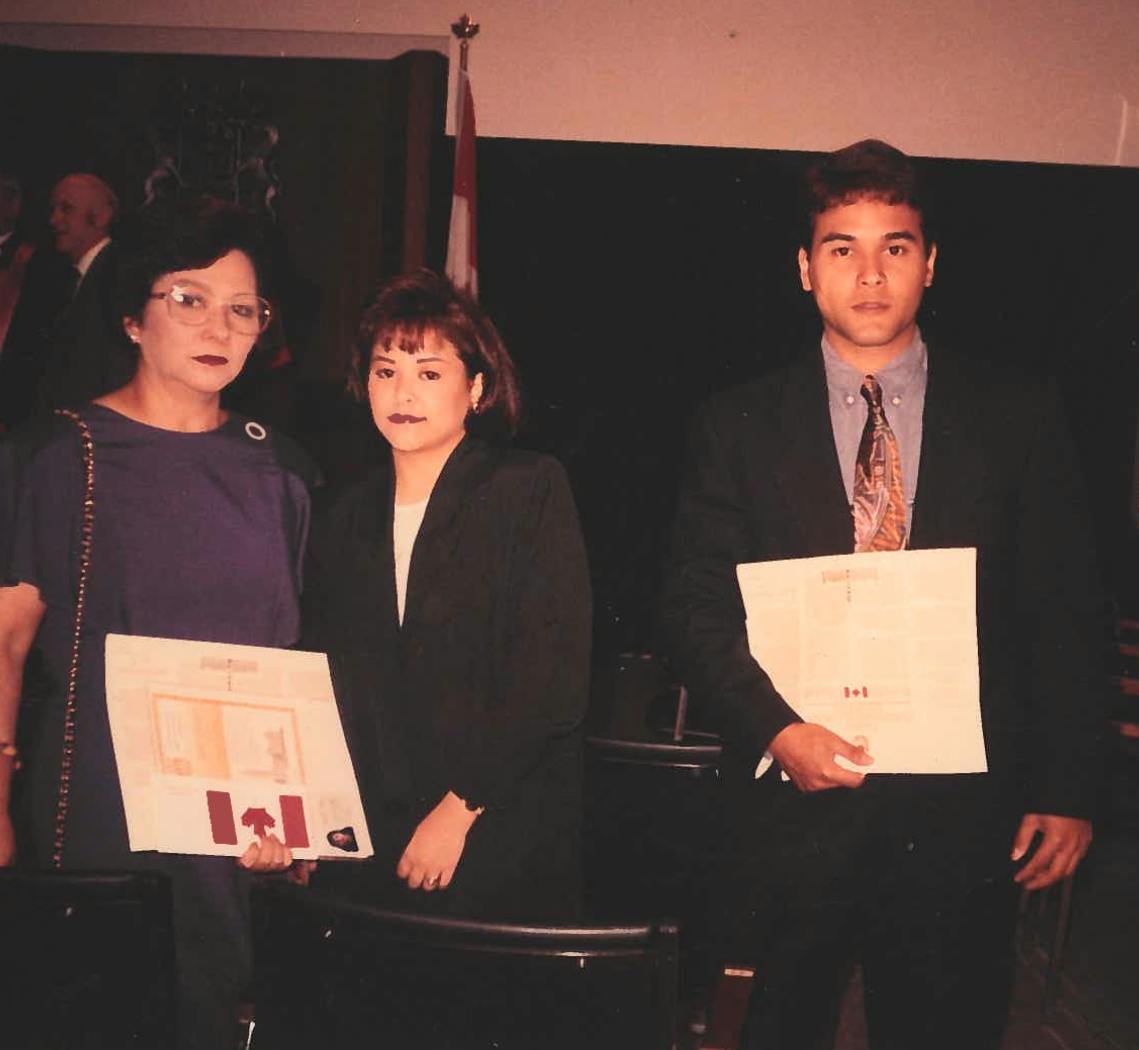 Mama Lola, my mom and my Tito An receiving their Canadian citizenship.
After settling in the US for a few years, Mama Lola started the Canadian visa process again and eventually got approved in 1988. During this time, all of her children were working and they all collectively supported one another. My grandma got a job at an Italian restaurant called La Pergola, my uncles worked, and while my mom was still in high school, she worked at IHOP after school and on the weekends.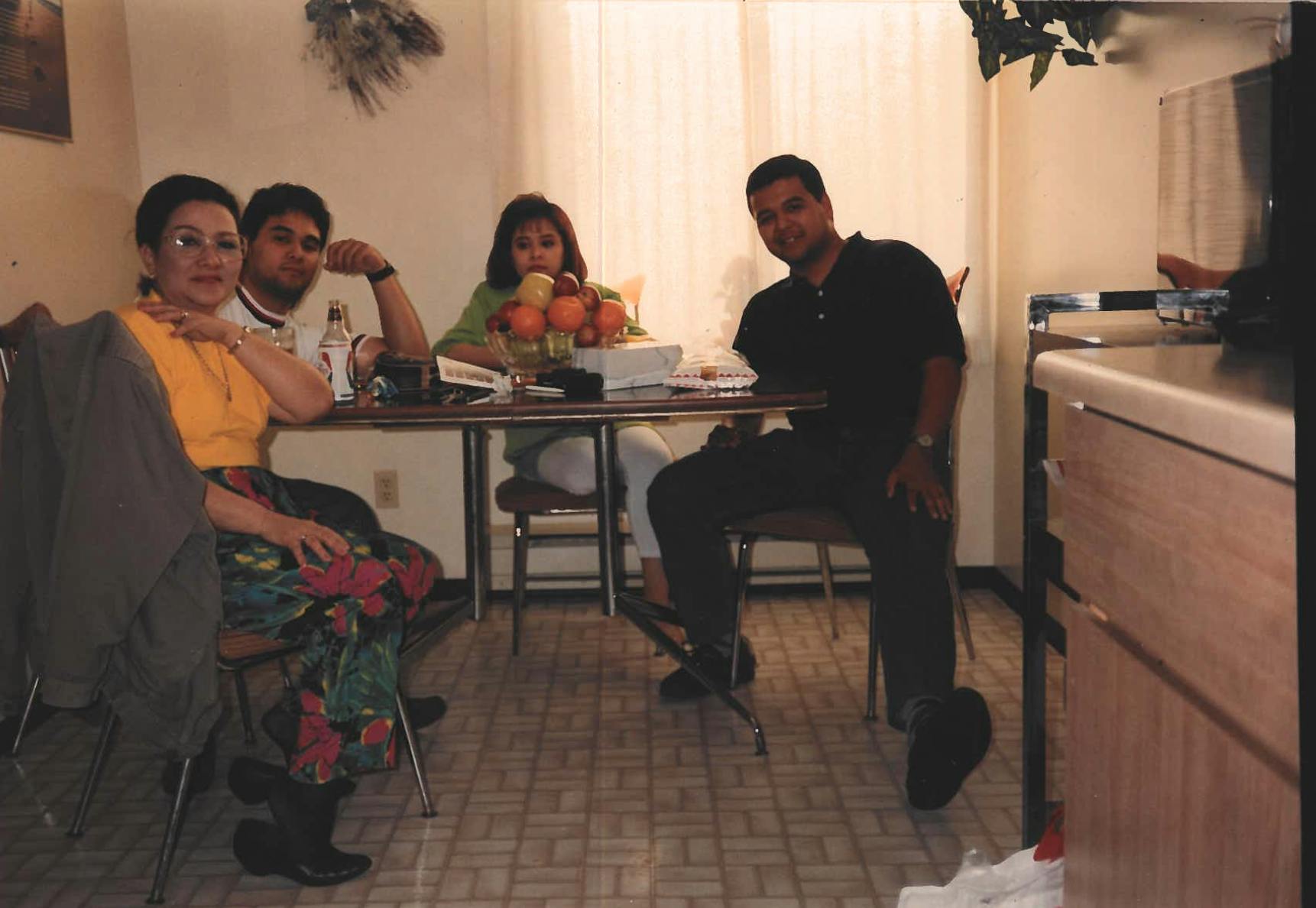 Mama Lola, my Tito Gigi and Tito An in their first apartment in Canada.
When I asked my Mama Lola if she missed the Philippines at all after moving to Canada, she said no. She explained that even though her life was objectively better in the Philippines, with her children's support, life was easier in Canada. Despite all the hardships she had been through, becoming a widow in her 30s and having to raise six children by herself, she never wanted them to see how her life experiences affected her. She constantly strived to make a better life for them. Even now, when I ask her what she's most proud of in her life, she says, "My children."